Our Men's Structured Sober Living program is literally 'Ritual Living'.  The structured schedule provides for a safe, fun, productive environment, which helps promote recovery. We provide 24/7 onsite house management and help to guide our new guests. Guys grow spiritually, learn responsibilities, and mature back into society. A typical day begins with early wake-up calls, followed by mandatory morning devotionals or meetings, which together set a positive foundation to begin our day. Guys are required to either work a FT job, attend an Intense Out Patient treatment program or be enroll as a FT student during the day. In addition, our program also includes strict, but fair curfews, random drug tests and nightly breath analysis. Throughout the week we do activities together, such as pick-up games & workouts or community service, etc, but most of all we encourage fun. What good is being sober if you're not having fun doing it?
House Requirements & Task Schedule
Structure: Day-to-Day "Rituals" & Basic Routines
8:30 AM Mon-Fri All residents start their day by making their beds.
8:45 AM Mon-Fri we do "DEVOTIONAL

", a short reading and share meeting amongst the men in our home, giving insight or inspiration for our day.

One daily 12 step meeting in the community or hosted in our home, totaling seven meetings a week and "90 MEETINGS IN 90 DAYS

" is required.

All residents will maintain a FULL-TIME SCHEDULE

comprised of… (Work, School, Intense Out Patient treatment, Therapy or Community Service), however they see fit.

I require the residents to come together and do 4 MONTHLY SERVICE HOURS

(Feed the homeless, clean up our beaches, walk dogs at the shelter, etc…)

6:00 PM every Tuesday is our HOUSE ACTIVITY

it is voted on by the residents and we entertain options such as (pick-up games, surfing, yoga, BBQ's, bonfires, etc…) We participate in fellowship amongst the guys for one night a week further building camaraderie amongst the guys.

We provide GYM MEMBERSHIPS

to EOS Fitness and attend regular physical exercise further engaging and building bonds.

Daily CURFEWS

are enforced at 10:00 PM Sun-Thur / 12:00 AM Fri and Sat.

Each man is assigned a HOUSEHOLD CHORE

for the week, which must be completed daily before curfew for accountability.

We perform BREATHALYZERS

for all residents every evening and

DRUG TESTING

randomly at least once a week.

NIGHTLY 10TH STEP

– Guys will breakdown their day, build a personal schedule for the following day and plan transportation to a meeting of their choice that they will attend with a fellow house mate.

Reviewed by night manager!
9:30 AM wake-up call on the weekend and regular devotional is at 9:45 AM.
10:00 AM Saturday morning the house does a DEEP CLEANING

.

5:00 PM Sunday evening we come together and eat a HOUSE DINNER

6:00 PM Sunday evening is our BUSINESS MEETING… We lay out the needs of the house, chore responsibilities, personal goals for the week, input on our activities, progress in our step work and improvements we need to work on.
Jerad – Founder of Ritual Living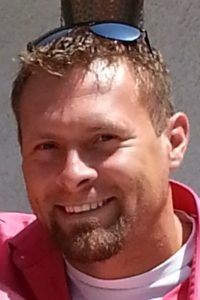 I started and manage Ritual Living. I'm also a recovered alcoholic/addict, so I have first hand experience and tend to relate well with people who are where I was a few years ago. I'm proud to say that I now have several blissful years of recovery( since Feb 21, 2013). By working a twelve step program of recovery, I've found new meaning and a powerful purpose for living for the first time. Watching a helpless man progress through the hopelessness of his life, while watching the selfish behavior melt away and seeing that transformation turn into new hope and love, becomes the greatest miracle of this program.
"My goal is to show as many men as possible how to find peace and serenity within their own lives, through my experiences of getting sober."